Newsletter – Nov 2022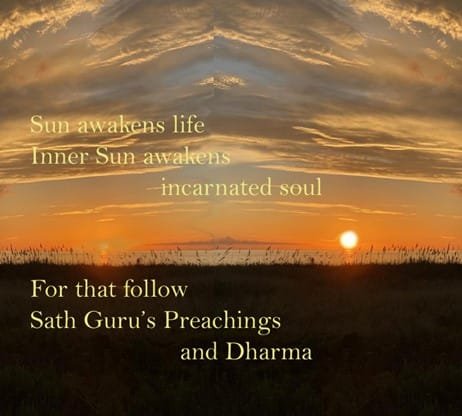 Dear Member Friends,
This month we have the Karthika Masa tour by Sath Guru Dr. Umar Alisha. Sath Guru tours to enlighten the masses, to sow the seeds of knowledge and bless mankind with love, light, health, happiness, peace, and prosperity.
Karthika masa is very important for sadhakas as Shiva and Vishnu like this month. It is said Shiva meditates on Kesava and Kesava meditates on Siva. This shows the whole confusion of disputes between Shaivites and Vaishnavites is ridiculous. For ages, all great men preached that "God is one and omnipotent". Sri Saibaba said "Allah sab ka malik hai". The truth is eternal and unchanging. That truth resides in every human heart. We just need to knock on the door of the heart and see the omnipresent God.
These days everyone speaks about God, spirituality, and rituals. Here, I remember a poem written by James Henry Leigh Hunt
Abou Ben Adhem (may his tribe increase!)
Awoke one night from a deep dream of peace,
And saw, within the moonlight in his room,
Making it rich, and like a lily in bloom,
An angel writing in a book of gold:—
Exceeding peace had made Ben Adhem bold,
And to the presence in the room he said,
"What writest thou?"—The vision raised its head,
And with a look made of all sweet accord,
Answered, "The names of those who love the Lord."
"And is mine one?" said Abou. "Nay, not so,"
Replied the angel. Abou spoke more low,
But cheerly still; and said, "I pray thee, then,
Write me as one that loves his fellow men."
The angel wrote, and vanished. The next night
It came again with a great wakening light,
And showed the names whom love of God had blest,
And lo! Ben Adhem's name led all the rest.
God resides in one and all and whoever loves his fellow being is loved and blessed by Lord. God destines lives and without the consent of Lord Shiva, nothing happens, whether it is good or bad. Our Sanatana Dharma says that never point out others or curse anyone for failures, or troubles. Instead, do self-introspection. This human life has come to understand the dynamics of incarnated soul, and transcend within this physical to the omnipresent divinity.
So, dear member friends, every day is a boon to us. Let us not waste our precious time amid illusion. Let us rise above illusion by doing sadhana and attain realization within this physical.
Thanking you
Yours sincerely
Renuka Devi Vangara
renuka.vangara@gmail.com